A Crossing to Eastern Europe's Up-and-Coming Data Centre Hubs
A Feature Article on the growing Austria Data Centre Market by JSA media consultant João Marques Lima
Austria, a largely mountainous landlocked country of south-central Europe, an important centre of musical innovation and home to a vast and rich catalogue of visual arts, architecture, and natural beauty, has long served the webs of history as a bridge between the East and the West. The nine million people country's name itself means "eastern realm", an allusion to its position on the European map and its connection to East Europe.
The Danube River, the second longest on the continent, flows to complete this bridging notion by creating a continuous link that has run for thousands of years crossing ten modern countries. Classified as an international waterway, it originates in the town of Donaueschingen—which is in the Black Forest of Germany—at the confluence of the rivers Brigach and Breg. The Danube then flows southeast for 2,872 km (1,785 mi), passing through four capital cities before emptying into the Black Sea via the Danube Delta in Romania and Ukraine.
Whilst for more than a millennium the Danube shaped the geopolitical maps and events of the region, with the advent of technology and digital adoption, that link has not been lost. It has moved from the water to the virtual ports of the internet and telecommunications infrastructure.
Its spatial proximity to neighbouring countries in Eastern Europe and their capital cities including Bratislava, Budapest, Prague, Ljubljana, and Zagreb, make companies and organisations see Austria, and in special Vienna, as the gateway to the East.
As provider NTT who operates in the market explains, starting from a data centre in Vienna, the IT infrastructure can be efficiently expanded in the direction of the former Eastern Bloc countries.
State of the Austria Data Centre Market
Austria's data centre market is booming and there are today 66 campuses and 185 service providers, according to Cloudscene's numbers. The capital Vienna is by far the largest hub amounting to 39 facilities, followed by Graz at seven sites, Linz housing five centres, Klagenfurt with four locations, and Salzburg with three.
Revenue in the data centre market is projected to reach US$1.43 billion in 2022, says Statista. This is expected to show an annual growth rate of 4.87%, resulting in a market volume of US$1.82 billion by 2027.
Vienna is considered as a strategic location for data centre development, and this is not expected to shift in the near future, as more investors plan for expansion in Austria's largest metro.
Similarly to many other European nations and beyond, the COVID-19 pandemic has been a major boost to the Austria data centre market, with increasing digitalisation and cloud adoption by enterprises.
As of January 2022, Austria had around 8.42 million internet users representing an internet penetration rate of about 93%, a 4.8% jump compared to 2021, according to Kepios, with researchers adverting that the real number might be higher.
Boosted by the pandemic, a lot of small and medium-sized businesses are also using more social media and e-commerce platforms for their business. This whopping internet adoption will drive the demand of the data centre market in Austria going forward.
The General Data Protection Regulation (GDPR) has and will also continue to have a significant impact on the Austria market in the coming years and will be another driving force to attract further investments into the country.
On the energy front, Austria is one of the greenest nations in Europe with plans to achieve 100% renewable energy by 2030. Hydropower is set to contribute to a major part of the plan. The push towards renewable energy production in the country will increase further investment in clean energy sources which will play a sound business model for cloud and data centre investors.
The average rack power density of data centres across Austria was in the range of 6–8 kW in 2020, which expects to reach 10 –12 kW by 2026, research from Arizton shows.
Since July 2018, data centres in Austria no longer require official plant license and the country offers sites with direct access to cooling water or in close proximity to power plants and transformer stations, featuring what the government claims to be "competitive energy prices" with a power output of up to 500 MW.
In fact, the price of electricity in Austria is almost a third lower than neighbouring Germany or Switzerland. While consumers in Germany usually pay more than 29 cents per kW/h, in Austria it is "only" 18 cents per kW/h. These figures might however change during the coming months as Europe navigates the impact of the energy crisis over the Winter of 2022/23.
The Austria Data Centre Players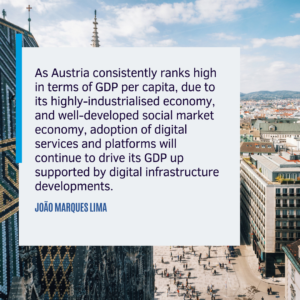 Digital Realty, NTT Global Data Centers, Magenta Telekom, Atos, and IBM are some of the major data centre brands in the country.
Digital Realty, has for example, acquired over 230,000 square feet of land near Vienna, for the development of a new data centre facility with a capacity of 40 MW power capacity.
Magenta Telekom, which also owns 1,500 5G tower sites across the country, is constructing a new data centre facility in Graz that will add around 3.5 MW of IT load.
Stadtwerke Feldkirch, Nessus, DATASIX, GRZ IT Center, STACKIT, and A1 Telekom Austria are also important names in this geography.
On the contractors and subcontractors front, ISG, Dipl.-Ing. H. C. Hollige, ICT Facilities, COOLtec Systems, and ZAUNERGROUP Holding are some of the major logos.
Cloud giant Microsoft has plans to establish a cloud data centre in Austria, which is likely to attract other hyperscale investors, thereby expanding colocation services in the country.
AWS has also announced its first cloud Local Zone in Austria, set to be deployed in Vienna. AWS Local Zones are a type of infrastructure deployment that places compute, storage, database, and other select AWS services close to large population and industry centres.
The Future of the Data Centre Market in Austria
As Austria consistently ranks high in terms of GDP per capita, due to its highly-industrialised economy, and well-developed social market economy, adoption of digital services and platforms will continue to drive its GDP up supported by digital infrastructure developments.
Whilst Austria was the birthplace of many famous composers such as Joseph Haydn, Michael Haydn, or Franz Liszt, and a musical haven for Wolfgang Amadeus Mozart, today, the country is gearing up to become a significant Tier 2 market in Europe. This will not only build its digital infrastructure play, but also – as Austria has done in the past – aid in the development of other up and coming markets, especially across Eastern Europe.