The World's 10 Greenest Countries
Yale University's Environmental Performance Index (EPI) is a key indicator of a country's ecosystem vitality and environmental health. A country is assessed using 32 indicators that fall under 11 issues which include air quality, sanitation and drinking water, heavy metals, waste management, biodiversity and habitat, ecosystem services, fisheries, climate change, pollution emissions, agriculture, and water resources. The primary goal is to give quantitative measurements for assessing a country's environmental performance in several policy categories in comparison to explicitly stated objectives. The following is a list of the countries with the highest EPI scores worldwide. 
10. Iceland
Nesjavellir Geothermal Power Station in south Iceland.
The island nation of Iceland has long been appreciated for its environment-friendly policies. With a score of 62.80 on the EPI 2022, the country finds itself as the world's 10th greenest country. The well-developed renewable hydro and geothermal energy sectors of Iceland power the nation's energy-intensive industries. The country promotes eco-friendly ways of life including ecotourism. Development of products using green technology is encouraged by the government. Iceland also working to achieve carbon neutrality by 2040 by reducing the carbon footprint of the nation using green technology and sustainable living.
9. Switzerland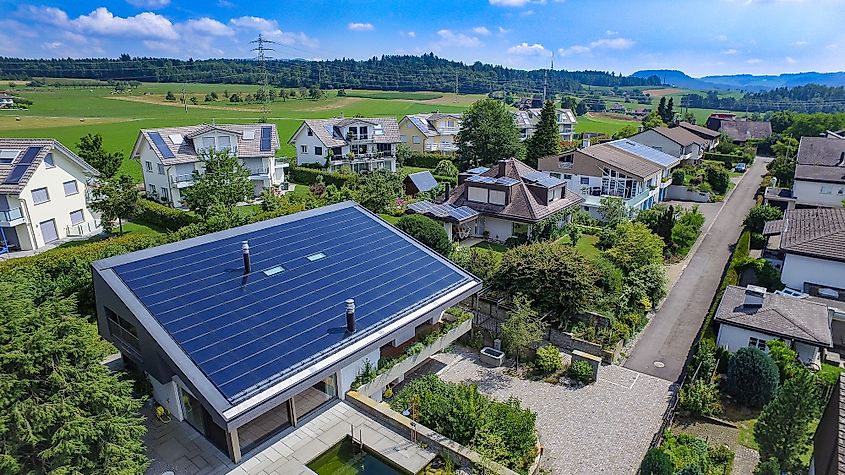 Solar panels in Switzerland are commonly used as renewable energy resource.
Ninth-place Switzerland, with an EPI score of 65.9 has dropped down 6 positions from number 3 in 2021 on the EPI. The country is highly rated in terms of water resources, water cleanliness, sustainability, and environmental health. It has implemented several measures to guarantee that the environment is preserved while also being sustainable. Environmentally and resource-friendly items are becoming more and more necessary in Switzerland's public sector. Additionally, it ranks highly among the world's recyclers. Switzerland employs all available forms of solar and geothermal energy, as well as heat pumps and wind turbines, to generate electricity. However, hydroelectric power accounts for 56% of the country's renewable energy sources, meaning all those mountains, lakes, and rivers are put to good use. Over the years, rules have been passed in Switzerland that have encouraged the growth of agriculture and prohibited the construction of new infrastructure there. Due to the nation's efforts, the environment has been preserved, enabling it to be one of the greenest worldwide. Its significant qualities include clean air, stunning lakes, and mountains.
8. Austria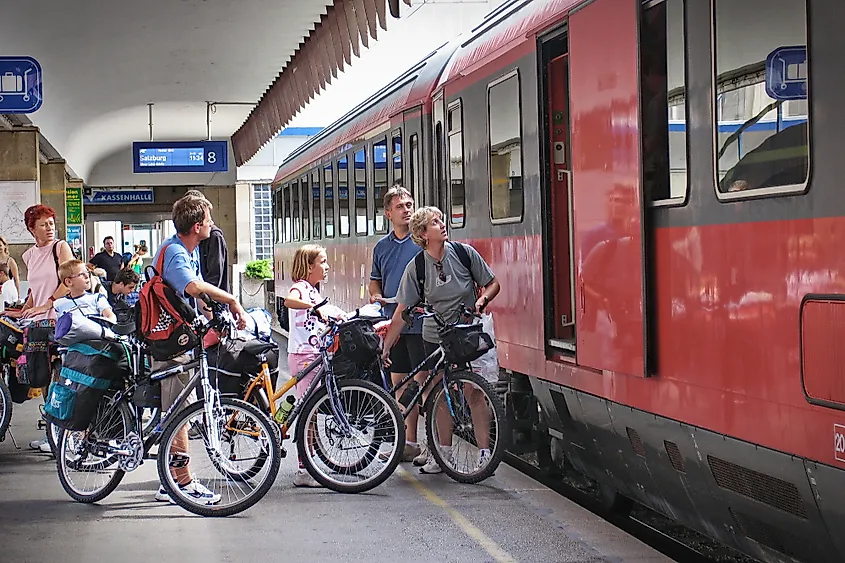 Bicycling and using the public transport system are some of the greenest ways of commute. In Vienna, Austria. Editorial credit: MikeDotta / Shutterstock.com
With a score of 66.5 this mountainous landlocked nation in Europe was ranked eighth on the EPI scale. Austria attains this index by continuously working to preserve the natural conditions of its surroundings. It has taken several significant steps, including integrating environmental preservation into its social and economic goals. In Austria, living in harmony with the environment is a way of life. Many buildings in cities like Vienna and Salzburg are environmentally friendly, and there are free ski shuttles and hiking vans to promote the use of public transportation. Cities like these are also rich with parks. To reduce the effects pollutants have on the environment, Austria has also worked hard in fields including waste management, chemical, and air pollution. Furthermore, agriculture and forestry in the country are based on the foundation of sustainability and have recently made many persistent advancements in these fields. This is evident in the prohibition against the use of pesticides in agriculture. Additionally, Austria has taken steps to safeguard its forest and minimize deforestation. It is now among the greenest nations in the world, thanks to all of these factors.
7. Slovenia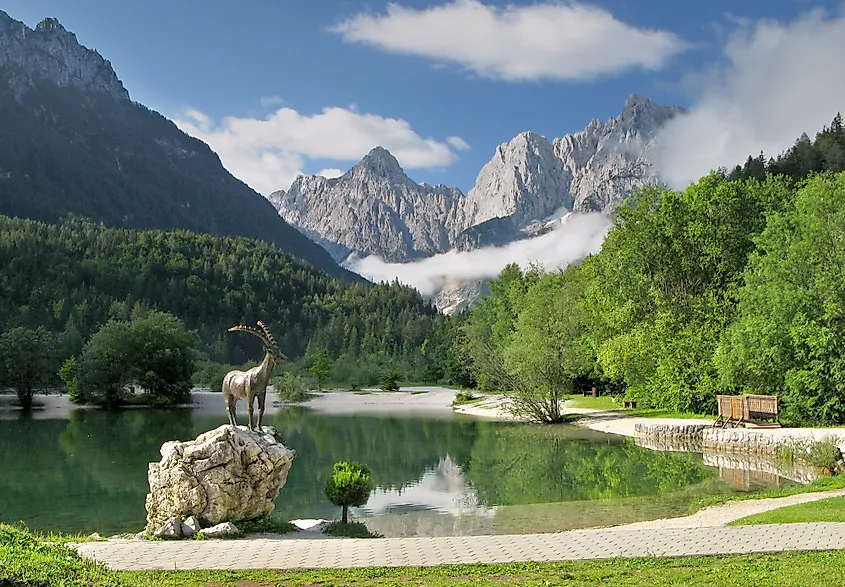 Triglav National Park in Slovenia.
With a score of 67.30, Slovenia country makes becomes the greenest country in East Europe and the 7th greenest globally. The country's ambitious efforts in recent times to protect its natural heritage under the Natura 2000 initiative of the EU bore fruit and is one of the top reasons for the country's high ranking in the EPI. It protects over 30% of its territories. 
6. Luxembourg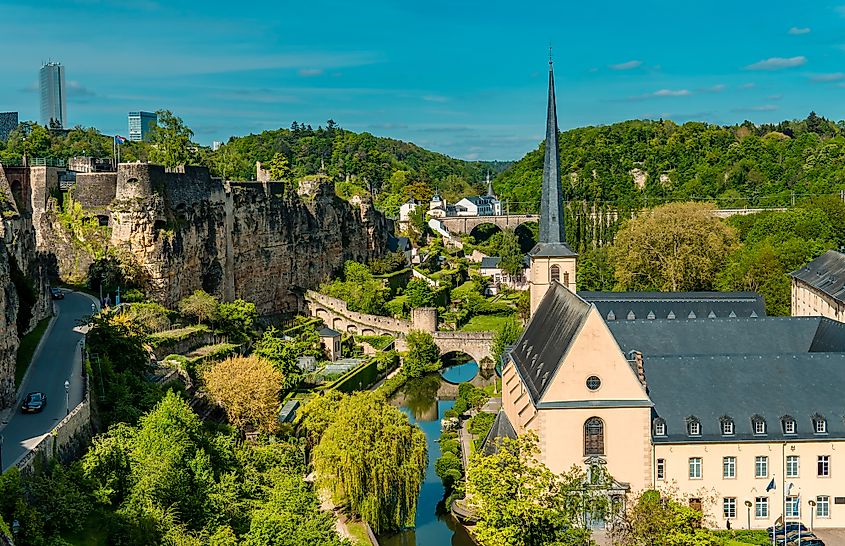 Luxembourg has a significant green cover. Over 33% of the country is forested.
The tiny European nation of Luxembourg, which ranks sixth in the world on the EPI scale after sliding down from the 2nd position of 2021, is well-known for its excellent ratings in the areas of biodiversity, habitat, and water resources. The total EPI score for Luxembourg is 72.3; it ranked especially well in biodiversity conservation and acidification management categories of the EPI. Despite its fast-expanding GDP and population, Luxembourg has achieved tremendous advancements in environmental protection. Luxembourg is actively modernizing its public transportation system to alleviate traffic. Furthermore, Luxembourg has increased its reliance on renewable energy during the previous five years, doubling its solar power and tripling its wind power. 
5. Sweden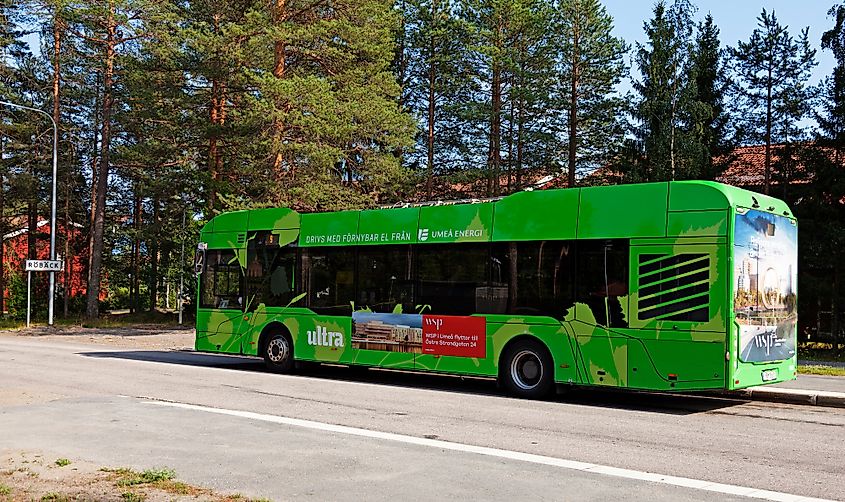 An environment-friendly electric bus waiting to be charged in Sweden.
Sweden comes in the fifth place on the list with an overall EPI score of 72.70. Sweden is renowned for its use of renewable energy sources and minimal carbon dioxide emissions, making it one of the most environmentally friendly countries. It introduced a carbon tax in 1995, making it one of the first nations to do so globally. Utilizing renewable energy significantly helps to lower the amount of carbon in the air, creating a cleaner and safer environment in Sweden. Additionally, it received 100-percent marks for air quality and water resources categories for PM2.5 exposure. It also did exceedingly well in protecting marine areas and preventing the loss of grassland and wetland loss. Sweden has remained a green country because it has one of the best environmental governance systems in the world.
4. Malta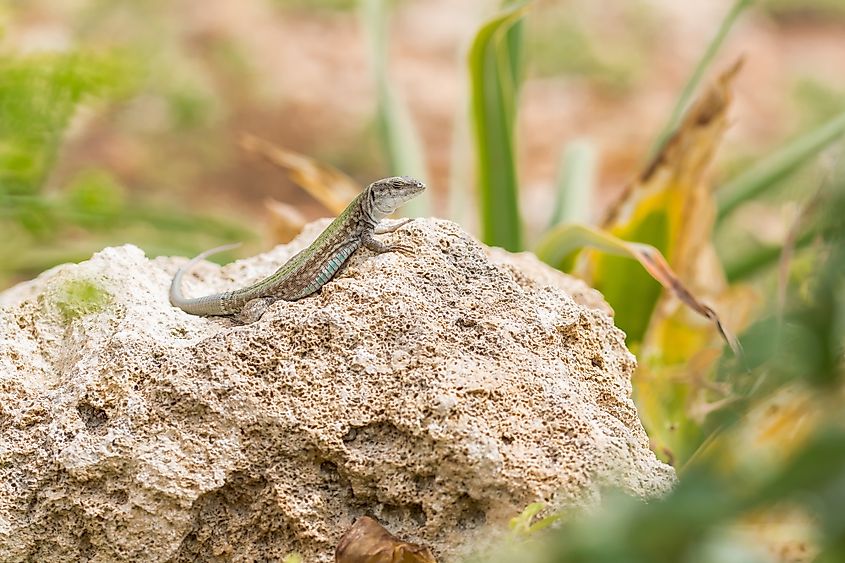 A Maltese lizard on a rock in Malta. The country is host to a diversity of ecosystems with some endemic species.
The European Union island nation of Malta ranked fourth in the 2022 EPI with a score of 75.20. The country scored the top rank in several categories assesed by the EPI, especially biodiversity and ecosystem service management. It also performed well in controlling the acidification rate, reducing pollutants causing climate change and providing clean drinking water to its citizens.
3. Finland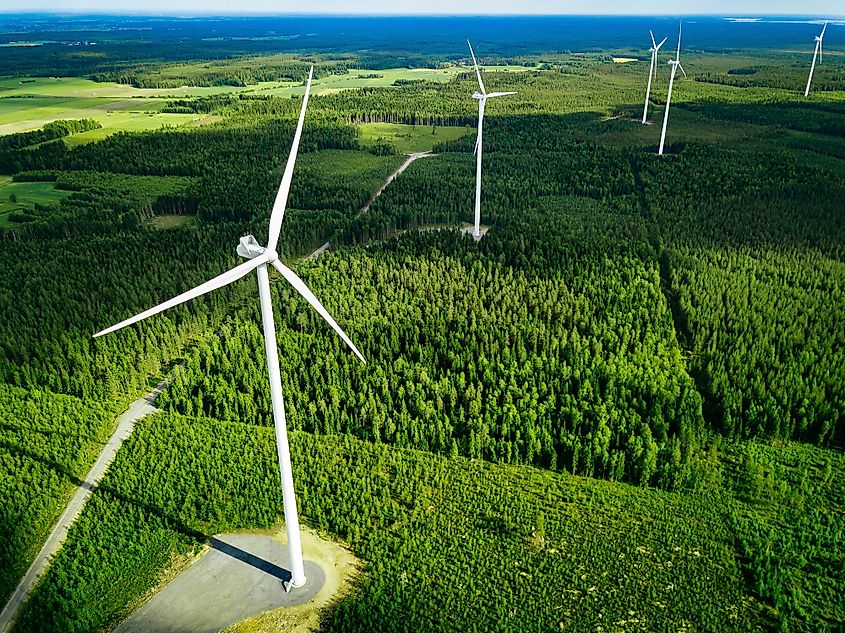 By conserving forests and using renewable energy resources, Finland ensures a green, clean environment for its citizens.
With an EPI score of 76.50, Finland is the third greenest country in the world. The country received top scores in managing grassland loss, acidification control, wasterwater treatment, sanitation and drinking water provisions, and several other areas. Finland gets over 35% of its energy from renewable sources, and protecting its forests and biodiversity is a top priority. Helsinki also has Europe's most famous bike rental program. There are several paths throughout the country where you may run, stroll, and cycle. Finland's environmental agency has made great efforts to prevent the generation of greenhouse emissions and to encourage the use of renewable energy sources by its population. The utilization of wind power is significant in the country. Furthermore, Finland has made significant advancements in budgeting for sustainable development since 2018. National research initiatives and innovation networks have included the United Nation's 2030 Sustainable Development Goals agenda. 
2. United Kingdom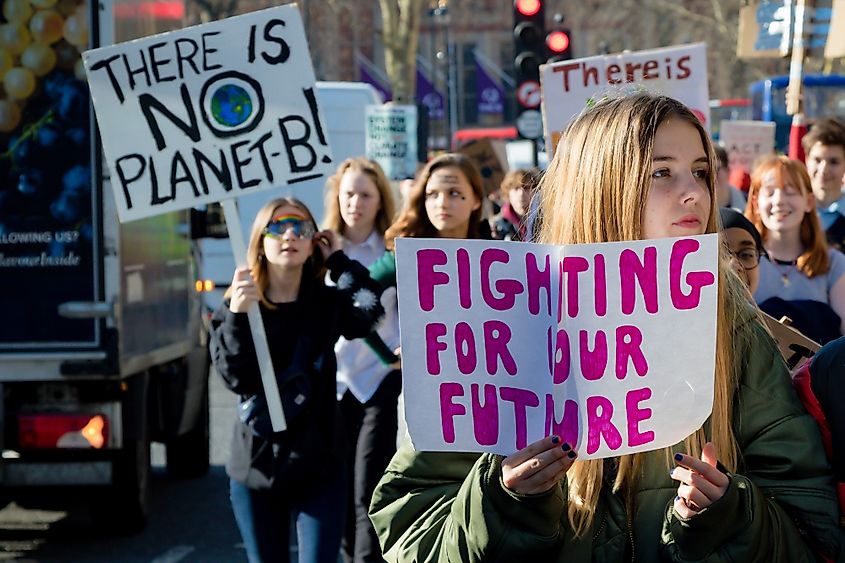 Young citizens of the UK advocating for the protection of the environment.
The U.K. ranked highest for management of solid home fuels, sanitation, and drinking water, and climate change policies which helped it rank second with a score of 77.70on the EPI scale. Currently, the U.K. is home to 8,879 wind turbines that provide the nation with sustainable, clean energy. The nation also comes in #1 for pollution emissions and second for climate change subcategories of assessing EPI. Considering that there are 66.52 million people living in the U.K., these ranks are extremely astounding. While charging more polluting automobiles, several cities promote cycling and electric vehicles. The nation is pleased with its dedication to leaving the environment in a better condition than it found it. The core of this commitment is sustainable agriculture. The UK Centre for Ecology and Hydrology significantly aids in the creation of resilient farming systems that preserve biodiversity and are robust to climate change. They seek to preserve and improve healthy soils, pure water, pollination, and organic pest management.
1. Denmark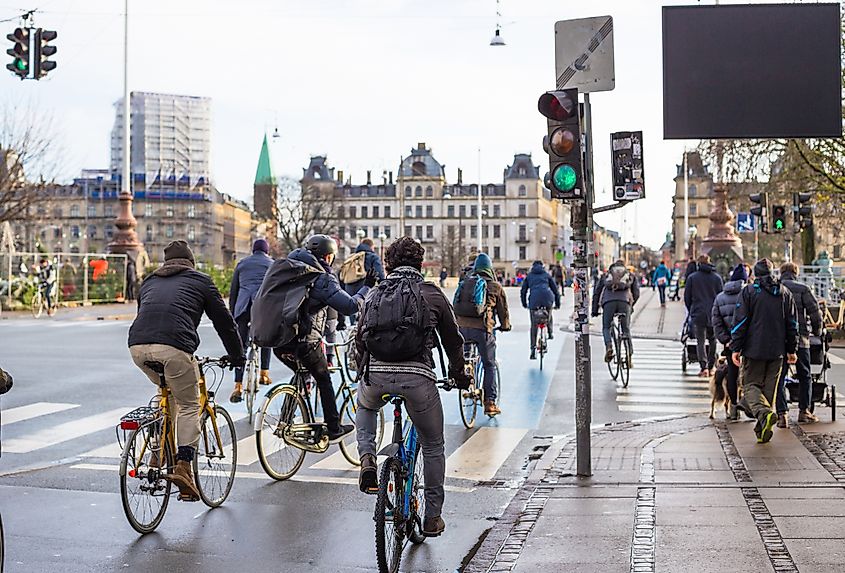 Residents of Copenhagen bicycling to work on a busy weekday. Cycling is one of the most environment-friendly means of commuting.
Denmark is recognized as the world's most environmentally friendly nation, with an EPI score of 77.90. Denmark stands out for having excellent ratings in the categories of "biodiversity and habitat" and "air quality." The Danish government has put eco-friendly measures in place to encourage people to utilize public transportation more frequently and reduce their usage of private vehicles, which contributes to decreasing air pollution. Numerous bike trails have also been built to encourage the usage of bicycles. Additionally, Denmark has a long history of creating and utilizing renewable energy. Denmark has long prioritized sustainability, advocating clean products like eco-friendly hotels, solar-powered boats, and organic food, in addition to enacting some of the most effective legislation in the world to cut greenhouse gas emissions and stop climate change.
These nations must set an example for all other nations around the world. They have demonstrated to everyone that stable economic growth is feasible while both lowering energy use and preserving the environment.
| Rank | Country | EPI Score (2022) |
| --- | --- | --- |
| 1 | Denmark | 77.90 |
| 2 | United Kingdom | 77.70 |
| 3 | Finland | 76.50 |
| 4 | Malta | 75.20 |
| 5 | Sweden | 72.70 |
| 6 | Luxembourg | 72.30 |
| 7 | Slovenia | 67.30 |
| 8 | Austria | 66.50 |
| 9 | Switzerland | 65.90 |
| 10 | Iceland | 62.80 |
| 11 | Netherlands | 62.60 |
| 12 | France | 62.50 |
| 13 | Germany | 62.40 |
| 14 | Estonia | 61.40 |
| 15 | Latvia | 61.10 |
| 16 | Croatia | 60.20 |
| 17 | Australia | 60.10 |
| 18 | Slovakia | 60.00 |
| 19 | Czech Republic | 59.90 |
| 20 | Norway | 59.30 |
| 21 | Belgium | 58.20 |
| 22 | Cyprus | 58.00 |
| 23 | Italy | 57.70 |
| 24 | Ireland | 57.40 |
| 25 | Japan | 57.20 |
| 26 | New Zealand | 56.70 |
| 27 | Spain | 56.60 |
| 28 | Bahamas | 56.20 |
| 28 | Greece | 56.20 |
| 30 | Romania | 56.00 |
| 31 | Lithuania | 55.90 |
| 32 | Seychelles | 55.60 |
| 33 | Hungary | 55.10 |
| 34 | North Macedonia | 54.30 |
| 35 | Botswana | 54.00 |
| 36 | Barbados | 53.20 |
| 36 | Saint Vincent and the Grenadines | 53.20 |
| 38 | Sao Tome and Principe | 52.90 |
| 39 | Antigua and Barbuda | 52.40 |
| 39 | United Arab Emirates | 52.40 |
| 41 | Bulgaria | 51.90 |
| 42 | Dominica | 51.20 |
| 43 | United States of America | 51.10 |
| 44 | Namibia | 50.90 |
| 44 | Singapore | 50.90 |
| 46 | Poland | 50.60 |
| 47 | Panama | 50.50 |
| 48 | Portugal | 50.40 |
| 49 | Belize | 50.00 |
| 49 | Canada | 50.00 |
| 51 | Gabon | 49.70 |
| 52 | Ukraine | 49.60 |
| 53 | Saint Lucia | 49.40 |
| 54 | Kiribati | 49.00 |
| 55 | Belarus | 48.50 |
| 56 | Armenia | 48.30 |
| 57 | Israel | 48.20 |
| 58 | Grenada | 47.90 |
| 59 | Trinidad and Tobago | 47.80 |
| 60 | Cuba | 47.50 |
| 60 | Djibouti | 47.50 |
| 62 | Albania | 47.10 |
| 63 | Montenegro | 46.90 |
| 63 | South Korea | 46.90 |
| 65 | Chile | 46.70 |
| 66 | Ecuador | 46.50 |
| 67 | Venezuela | 46.40 |
| 68 | Costa Rica | 46.30 |
| 69 | Zimbabwe | 46.20 |
| 70 | Suriname | 45.90 |
| 71 | Brunei Darussalam | 45.70 |
| 72 | Jamaica | 45.60 |
| 73 | Mexico | 45.50 |
| 74 | Taiwan | 45.30 |
| 75 | Central African Republic | 44.90 |
| 75 | Eswatini | 44.90 |
| 77 | Equatorial Guinea | 44.80 |
| 77 | Mauritius | 44.80 |
| 79 | Serbia | 43.90 |
| 80 | Tonga | 43.80 |
| 81 | Afghanistan | 43.60 |
| 81 | Brazil | 43.60 |
| 81 | Jordan | 43.60 |
| 84 | Moldova | 42.70 |
| 85 | Bhutan | 42.50 |
| 85 | Comoros | 42.50 |
| 87 | Colombia | 42.40 |
| 87 | Kuwait | 42.40 |
| 89 | Dominican Republic | 42.20 |
| 90 | Bahrain | 42.00 |
| 91 | Cabo Verde | 41.90 |
| 92 | Argentina | 41.10 |
| 93 | Kazakhstan | 40.90 |
| 93 | Paraguay | 40.90 |
| 95 | El Salvador | 40.80 |
| 96 | Tunisia | 40.70 |
| 97 | Malawi | 40.60 |
| 98 | Guinea-Bissau | 40.20 |
| 99 | Bolivia | 40.10 |
| 99 | Republic of Congo | 40.10 |
| 101 | Peru | 39.80 |
| 102 | Bosnia and Herzegovina | 39.40 |
| 103 | Georgia | 39.10 |
| 104 | Azerbaijan | 38.60 |
| 105 | Guyana | 38.50 |
| 106 | Zambia | 38.40 |
| 107 | Uzbekistan | 38.20 |
| 108 | Thailand | 38.10 |
| 109 | Saudi Arabia | 37.90 |
| 110 | Nicaragua | 37.70 |
| 110 | Niger | 37.70 |
| 112 | Russia | 37.50 |
| 113 | Maldives | 37.40 |
| 113 | Micronesia | 37.40 |
| 113 | Uruguay | 37.40 |
| 116 | South Africa | 37.20 |
| 117 | Tajikistan | 37.10 |
| 118 | Turkmenistan | 37.00 |
| 119 | Dem. Rep. Congo | 36.90 |
| 119 | Vanuatu | 36.90 |
| 121 | Honduras | 36.50 |
| 122 | Gambia | 36.40 |
| 122 | Samoa | 36.40 |
| 124 | Marshall Islands | 36.20 |
| 125 | Uganda | 35.80 |
| 126 | Kyrgyzstan | 35.70 |
| 127 | Burkina Faso | 35.50 |
| 127 | Egypt | 35.50 |
| 129 | Timor-Leste | 35.10 |
| 130 | Malaysia | 35.00 |
| 130 | Solomon Islands | 35.00 |
| 132 | Sri Lanka | 34.70 |
| 133 | Iran | 34.50 |
| 134 | Tanzania | 34.20 |
| 135 | Togo | 34.00 |
| 136 | Senegal | 33.90 |
| 137 | Qatar | 33.00 |
| 138 | Cote d'Ivoire | 32.80 |
| 138 | Rwanda | 32.80 |
| 140 | Sierra Leone | 32.70 |
| 141 | Lesotho | 32.30 |
| 142 | Lebanon | 32.20 |
| 143 | Ethiopia | 31.80 |
| 144 | Eritrea | 31.70 |
| 144 | Mozambique | 31.70 |
| 146 | Guinea | 31.60 |
| 147 | Fiji | 31.30 |
| 148 | Kenya | 30.80 |
| 149 | Laos | 30.70 |
| 149 | Oman | 30.70 |
| 151 | Angola | 30.50 |
| 151 | Burundi | 30.50 |
| 153 | Cameroon | 30.20 |
| 154 | Cambodia | 30.10 |
| 155 | Algeria | 29.60 |
| 155 | Benin | 29.60 |
| 155 | Mongolia | 29.60 |
| 158 | Philippines | 28.90 |
| 159 | Mali | 28.50 |
| 160 | China | 28.40 |
| 160 | Morocco | 28.40 |
| 162 | Nepal | 28.30 |
| 162 | Nigeria | 28.30 |
| 164 | Indonesia | 28.20 |
| 165 | Chad | 28.10 |
| 165 | Mauritania | 28.10 |
| 167 | Guatemala | 28.00 |
| 167 | Madagascar | 28.00 |
| 169 | Iraq | 27.80 |
| 170 | Ghana | 27.70 |
| 171 | Sudan | 27.60 |
| 172 | Turkey | 26.30 |
| 173 | Haiti | 26.10 |
| 174 | Liberia | 24.90 |
| 175 | Papua New Guinea | 24.80 |
| 176 | Pakistan | 24.60 |
| 177 | Bangladesh | 23.10 |
| 178 | Viet Nam | 20.10 |
| 179 | Myanmar | 19.40 |
| 180 | India | 18.90 |